Buescher 235 / 236 Custom Built
Sold from about 1935 to the late 30s (unconfirmed)
235 was considered the "Medium" bore and the 236 was (what was at the time) "Large" bore.
In the PeaShooter long wrap style, the 235 and 236 Custome Built featured distinctive nickle-silver fittings and was loaded with Buescher's patented stainless-stell plated bottom spring "Pin" valves.
The receiver on this model is different then those on earlier Buescher models.
Originally this line of horns was called the "Aristocrat Custom Built" but after 1939, they were simply refered to as the "Custom Built"
The "Custom Built" line of horns was marketed as a deluxe version of the standard "Aristocrat" line (which Buescher continued to produce as their entry-level Professional horns).
Sound Description: coming soon
1935 Buescher Catalog 235 / 236 Custom Built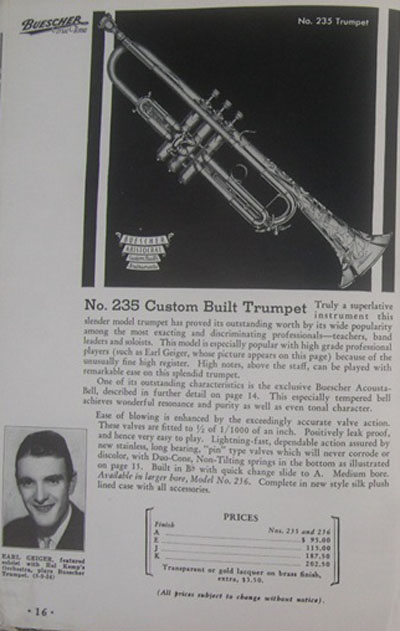 The following 2 images I borrowed from True Tone on Flickr, here is a link to his collection of Buescher 235 Pictures