Buescher 220 Aristocrat
Sold from about 1939 to the mid 1940s
An all Brass horn according to the 1939 Catalog.
VetPsychWars has proposed that some of these 220s were actually comprised of a combination of parts from other Buesher models of the time. He believes that when Buescher began producing trumpets again after WWII, they used what ever they had on hand until new parts could be made.
This Trumpet is one of the few that was sold with the "Big B" bell logo, and seemed to have a short production run... only a few years.
Sound Description: "I have played this horn for community band concerts. It's a terrific horn, plays well, and sounds great! It has a small, 4-1/4" bell, so it is a little focused, but not an awful thing." -VetPsychWars TrumpetMaster.com
1939 Buescher Catalog 220 Custom Built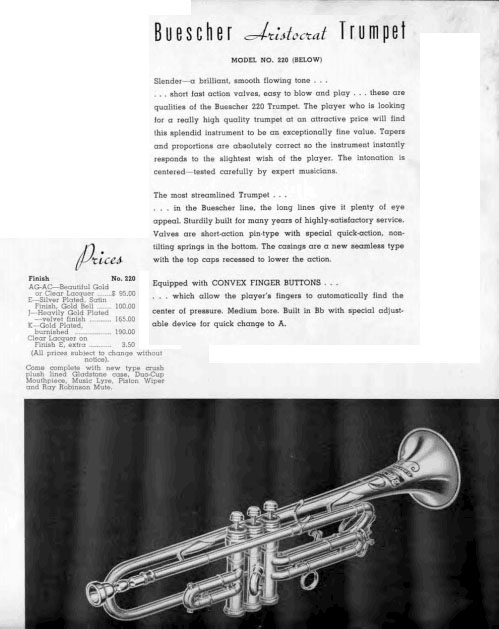 Here are 4 pictures from Vet PsychWars post on TrumpetMaster.com




And this last one is from TrueTone's Flicker Page